Booya Game Development
Gameboy Diagnostics
Gameboy Diagnostics is a relatively simple program for the Nintendo Gameboy, Gameboy Color, and Gameboy Pocket.
It is a program that the user can use to test all of the features on the Gameboy.
Features include: LCD scanline test, Button Input test, Sound (Mono & Stereo) Test, Color Palette Test (for GBC), GB Version Info (displays system info), and many more.
Download here: COMING SOON
Screenshots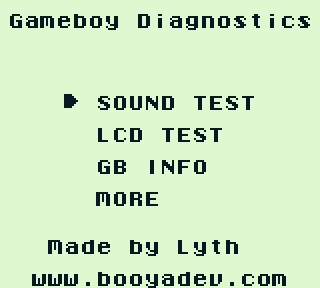 Contributors
Lyth - Programming, storyboard, game design, and debugging
Matja - Program touch ups, sound and logo screen help
Beware - Provided the BGB (Gameboy) emulator for testing and debugging
©2015 Lyth