Booya Game Development
Nobody - The Story of Nothing
Nobody - The Story of Nothing is a unique text based, minimalistic, "choose your own adventure"-type game for the Nintendo Gameboy. It's written in ANSI C and uses GBDK as the compiler.
The Premise is simple.
Who are you? You are Nobody. What are you? You are nothing. What will you become? That remains to be seen. Will you stay nothing? Possibly. Will you become Something? Maybe... if that's what you wish.
In this game you are not a person, instead, you are an entity. You are not living, nor dead.
Download here: Nobody - The Story of Nothing Download

Screenshots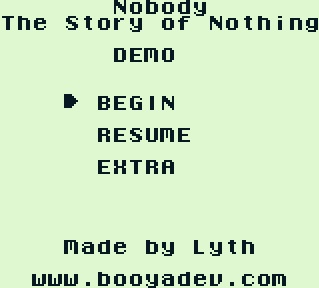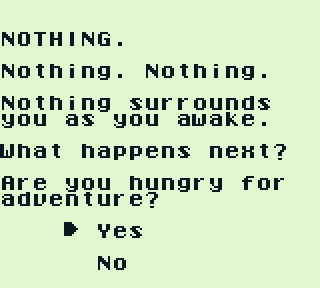 Contributors
Lyth - Programming, storyboard, game design, and debugging
Matja - Program touch ups, sound and logo screen help
RoboTwo - Provided help and instruction during the initial stages of development
Beware - Provided the BGB (Gameboy) emulator for testing and debugging
Foxlet - Provided development assistance, code tweaking and artistic ideas.
©2015 Lyth